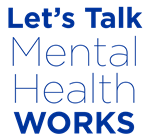 Let's Talk: Mental Health Works is a series of short interviews where we hear from the experts on timely and common mental health issues that impact the workplace and are of the utmost importance to employers.
---
Episodes
Episode Four: The Importance of Empathy in Creating Caring Organizational Cultures
A conversation with Heather Kelly, Founder and Consultant, Aura Wellbeing about the importance and role that empathy plays in creating caring organizational cultures. This interview provides insights into the real actions organizations are taking to address empathy and create a more caring culture, and the positive outcomes they've seen after making that commitment. For more on empathy from Heather Kelly, check out her TED Talk, Empathy is the Super Power You Need
Episode Three: Innovations in Workplace Mental Health
A conversation with Laura DeCook, Well-being Specialist at Expedia Group about Innovations in Workplace Mental Health. This interview provides insights into workplace mental health initiatives that Expedia Group have found success in and challenges they've faced along the way.
Episode Two: Returning to the Workplace and the Impact on Employees
A conversation with Charles Lattarulo, Ph.D., Director of Healthy Minds at American Express about returning to the workplace and the impact on employees. This interview includes helpful information on policies, practices and resources that American Express has made available to employees to prepare for their transition back to onsite work.
Episode One: Resilience
Presented by the American Psychiatric Association Foundation's Center for Workplace Mental Health. A conversation about resilience with Nancy Spangler, Ph.D., ODTR/L, Founder and President, Spangler Health.